Hong Kong people have been protesting for months against the proposed extradition bills, which enable transfer of fugitives to Mainland China. We oppose to the legislation because it would place Hong Kong people and the visitors under the jurisdiction of mainland courts and may apply not only to criminals but also to political dissents. Therefore, we demand:
A complete withdrawal of the now-suspended bill,
The withdrawal of the "riot" characterization of the June 12 protests,
The unconditional release of all arrested protesters,
The formation of an independent commission of inquiry into police behavior, and
Universal suffrage.
Yet, the government has not been indifferent to our calls. Provoked by the government's no responsiveness, protests have been blossoming in different districts and especially targeting at police stations for their unreasonable brutality. Endorsed by the government, the police force has been shooting tear gas, sponge grenades, bean bags and rubber bullets to the protesters and further showed their unlawful misconduct. In fact, the police has fired more than 1,800 rounds of tear gas, 160 rubber bullets, and 150 sponge grenades, and arrested 420 people from Jun 2019 to August 2019.
There are many young people/student involved in this movement. They are facing a huge pressure, maybe, from family or workplace. Until this moment, there are over 7 people commit suicide due to the pressure. In spite of many Lennon wall around Hong Kong, I believe shouting, crying, or saying is the more efficient emotional tools to relieve. We, as a human, are hard to make a good decision if we are emotional unstable. Therefore, we make the voice mailbox to ask people leave their message or make a wish.
You can take this as a voice mailbox, or a wish tree. You can hear voice navigation as you pick up the phone.
Please dial a number, which you want to call – you may call someone whom you want to talk to, a hotline, your home, someone you love, or even a secret number in 8 digits.
The system will check if this number has received any voice messages.

 If there is no message for this number, you can dial "1" and leave your message after the tone.
 If there are message(s), you may dial "0" to listen to the message(s), or dial "1" to leave a message.

Please hang up after listening and/or leaving your message.
We placed the voice mailbox in Chater Park on 28/Jul, Tamar Park on 5/Aug, Hong Kong International Airport from 9/Aug to 11/Aug. There are over hundreds voices received through the Lennon voicemail. We, RC team, will make the video artwork with Chinese and English subtitle after that. We hope people all over world will know how is Hong Kong people feeling in this movement.
This is the very beginning look of the Lennon voicemail.
First time displaying in Chater Park (28/Jul). We received some voicemail with Memo and PR materials already…
Second time displaying in Tamar Park (5/Aug). More voicemail and more memo put on the box.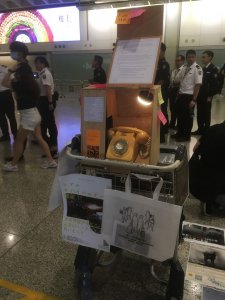 The third time in Airport (9/Aug to 11/Aug). We specially made one more in English version. The voicemail box is completely immersive into the demonstration.
Start from September 2019, we placed the voicemail box in Secondary School.
At the beginning of September, the first episode of video artwork is released.
The work name called Voices of Hong Kong Rioters.